About Us
The establishment process of College of Fisheries Science and Research Centre, at Etawah, started with the announcement by Shri. Mulayam Singh Yadav Ji, the then Chief Minister of Uttar Pradesh on dated 14 /01/2006 while addressing the college staff and students at the University's Etawah campus on the occasion of University's centenary year, he strongly advocated a vast potential of fisheries in the nearby districts of Etawah, Firozabad, Mainpuri, Kannauj and Auraiya. In Etawah district itself, there is a confluence of five rivers viz. Kunwari, Pahuj, Jamuna, Chambal and Sind called the 'Pachnada' has a rich habitat for dolphins. Sooner, in compliance of the government orders, the necessary budgetary provisions were made to formally establish a constituent College of Chandra Shekhar Azad University of Agriculture and Technology Kanpur, at Etawah campus. After the completion of necessary constructional work, the College of Fisheries Science and Research Centre, at Etawah became functional from Year, 2015.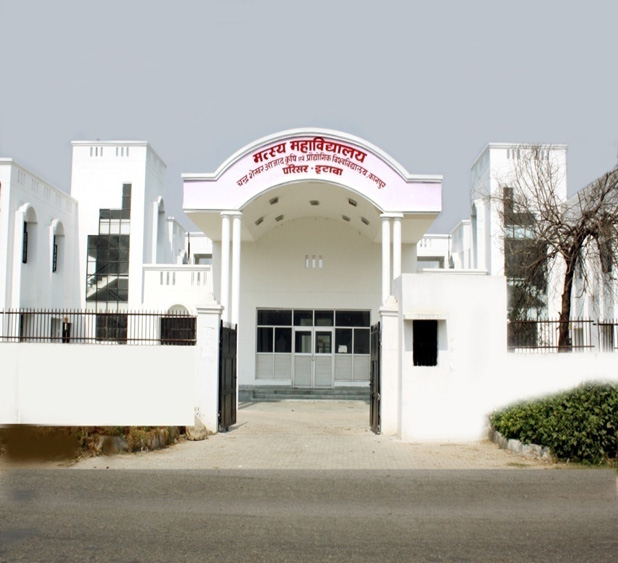 The mission of the College is to promote a greater understanding and appreciation of the biological, technical and economic importance of fisheries and related areas. The mandate of the College is to plan, undertake, aid, promote and co-ordinate education, research and extension in Fisheries Science. Being the second college in the state in fisheries science, the college continues to play a key role in fisheries education and research in the country. The College now offers BFSc (4 years) only, but there are provisions for MFSc (2 years) and PhD Programs (3 years) in Fisheries Sciences in near future.
The College has administrative block, library, departments of Aquaculture, Fisheries Microbiology, Fisheries Resources and Management and Aquatic Environment Management departments, hostels (both for boys and girls) guest house, seminar hall, and sports facilities.
The College of Fisheries, offers the physical, administrative, curricular infrastructure to manage the academic and training programs. The College has 13 sanctioned positions by the state government. These positions are in the process of recruitment. Presently, the UG program is being run by guest faculty/ contractual faculty and regular faculty from college of Agricultural Engineering in the same campus for teaching allied subjects.
The College is in the process of developing scientific labs: Microbial Resource Centre, Disease Diagnostic Centre, Nutrition and Histopathology, Post-Harvest, Bioinformatics, Fishery engineering and electronics, environmental pollution monitoring and ecosystem study, geo-spatial hydrology and remote sensing. The College is being encouraged for securing funds for research and extension through external funding agencies.