Historical Background:
State Government has established research unit for the improvement of vegetable crops at Alambagh, Lucknow during 1951. During 1954, this unit had shifted from Lucknow to Kalyanpur, Kanpur under the supervision and administrative control of Late Dr. Y. R. Mehta, Horticulturist. Subsequently in the year 1962, the vegetable research scheme has been strengthened with the creation of a post of Economic Botanist (Vegetables). Kalyanpur was established as a sub centre under AICRP Vegetables w.e.f. 1971-72. In the beginning the vegetable crops under this programme were Brinjal, Pea, Tomato, Chilli, Okra, Cauliflower, French bean, Radish, Cucurbits, Onion and Garlic were added to the programme. Along with the research programme with major emphasis on varietal improvement, due emphasis has always been accorded to standardized the production technologies and vegetable seed production programme. Government of India has also sanctioned a project on "Breeder Seed Production of Vegetable crops" Recognizing the importance role of this centre in vegetable seed production programme, ICAR sanctioned a project on vegetable breeder seed production to this university as a new centre during 2010-11under AICRP- NSP which has now been merged with main project i.e. AICRP (V.C.). In the year 2008-09 ICAR also granted main centre of All India Network Research Project on Onion & Garlic sponsored by Directorate of Onion & Garlic Research, Rajgurunagar, Pune, (MS). During last fifty years more than 55 varieties of different vegetable crops were released by State/Central Variety Release Committee and more than seventy two different recommendations on vegetable production, plant protection aspect for the benefit of farmers' of the State. All India Coordinated Research Project on Potato have been sanctioned by the ICAR in year 2008-09. Presently, Three All India Coordinated/network project and two mega adhoc project are running in this department to facilitate the research work. The Vegetable Research Station at Kalyanpur was upgraded as Department of Vegetable Science under College of Horticulture . The students are being admitted in M.Sc.(Horticulture) & Ph.D.(Horticulture) major in Vegetable Science since July 2016.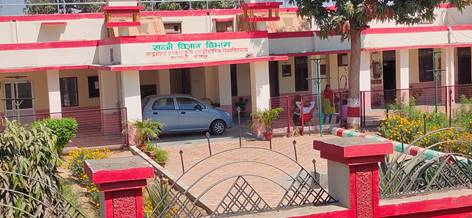 Coming Soon…
Mandate :
To carry out basic and strategic research on vegetable for development of new varieties.
To development superior, disease and insect-pest resistant high yielding varieties/hybrid of major vegetable crops.
Standardization and demonstration of advanced production and protection technologies.
Production and distribution of high quality vegetable breeder seeds and planting materials.
Collection, evaluation and maintenance of different vegetable germplasm.
All India Coordinated varietal trials on major vegetable crops.
Station/State varietal trials.
To disseminate and promote technologies for sustainable management of vegetable and their resources.
Research Achievements
S. No.
Crops
Varieties/Hybrids
1.
Brinjal
Kalyanpur Type-3, Azad B-1, Azad B-2, Azad B-3, Azad Kranti & Azad Hybrid
2.
Tomato
Kalyanpur Angoorlata, Kalyanpur Type-1, Azad T-2, Azad T-3, Azad T-5, Azad T-6, Azad T-8, KTH-1(Hybrid) & KTH-2 (Hybrid)
3.
Pea
Azad P-1, Azad P-2, Azad P-3, Azad P-4 & Azad P-5
4.
Okra
Azad Bhindi -1, Azad Bhindi -2, Azad Bhindi -3 (Azad Krishna)-Red coloured Capsules, & Azad Bhindi-4 (Azad Mohini)
5.
Chilli
Azad Mirch-1, Azad Achar Mirch-2, KCH-3 (Hybrid),
6.
Sponge gourd
Kalyanpur Hari Chikni, Azad Torai Chikni-1

& Azad Torai -2

7.
Bottle gourd
Kalyanpur Long Green, Azad Harit, Azad Nutan & Azad Sankar Lauki-1 (Hybrid)
8.
Bitter gourd
Kalyanpur Baramasi(Long fruited) & Kalyan Sona
9.
Pumpkin
Azad Pumpkin-1
10.
Cucumber
Kalyanpur Green
11.
Sem
Type-2, Rajni & Azad Sem-1
12.
Rajmah
Azad Rajmah-1
13.
Lobia
5269
14.
Onion
Kalyanpur Red Round
15.
Radish
Kalyanpur No.-1
16.
Turmeric
Azad Haldi-1
17.
Colocasia
Azad Arvi-1
18.
Coriander
Azad Dhania-1 & Azad Dhania-2
19.
Fennel
Azad Saunf-1
20.
Fenugreek
Azad Methi-1 & Azad Methi-2 (Azad Arunima)
21.
Ajwain
Azad Ajwain -1
22.
Nigella
Azad Kalaunji -1
23.
Zimikand
Azad Suran-1
Coming Soon…
Coming Soon…
Name
:
DR. AJAY KUMAR DUBEY
Date of Birth
:
03-08-1959
Designation
:
ASSOCIATE PROFESSOR
(PROFESSOR SCALE- Since 18.01.2005)
CollegeDepartment
:
College of Agriculture/Horticulture
Department of Vegetable Science, Kalyanpur, Kanpur

Contact Info
Office Info
Personal Info
Phone :
Mobile: :
Email :
Phone : 0512-2540305
Mobile:09935865732
Email :dr.dubeyajaykumar@gmail.com
dr_ajaydubey@rediffmail.com
See More Details
Name
:
Dr. RAJIV
Date of Birth
:
15-07-1969
Designation
:
Vegetable Agronomist
CollegeDepartment
:
College of Agriculture
Department of Vegetable Science
Contact Info
Office Info
Personal Info
Phone : –
Mobile: : –
Email : : –
Phone : –
Mobile: 08765600151
Email : rajiv.agro69@gmail.com
See More Details
Faculty :
Name
:
Dr M.R. Dabbas
Date of Birth
:
05-02-1959
Designation
:
Assistant Professor ( Plant Pathology)
College Department
:
College of Agriculture
Department of Vegetable Science
Contact Info
Office Info
Personal Info
Phone : –
Mobile: : –
Email : : –
Phone : –
Mobile: 09415483552
Email : drmrdabbas@gmail.com
See More Details
Name
:
Dr. SANJIVE KUMAR SINGH
Date of Birth
:
25-12-1966
Designation
:
Assistant Professor
CollegeDepartment
:
College of Horticulture
Department of Vegetable Science
Contact Info
Office Info
Personal Info
Phone :
Mobile: :
Email :
Phone : 0512-2575324
Mobile: 09450937817
Email :sanjive.csau@gmail.com
See More Details
Name
:
Dr. D.P. Singh
Date of Birth
:
12-04-1964
Designation
:
Sr. Scientist (Veg. Seeds)
College Department
:
Vegetable Section, Kalyanpur
Contact Info
Office Info
Personal Info
Phone : 0512-2534158
Mobile: : 9415070668
Email : dpsinghjdrcsa@gmail.com
Phone : 0512-2540305
Mobile:7007059544
Email :dp_singhcsa@yahoo.co.in
See More Details
Organization and Staff Position :
The organization and staff position of the vegetable sciences for conducting vegetable research on various aspects is given in the following table :
| | | | |
| --- | --- | --- | --- |
| S.N. | Name | Designation | Photo |
| 1. | Dr. P.K Singh | Professor and Sectional Head | |
| 2. | Dr. D.P. Singh | Associate Professor | |
| 3. | Dr. M.R. Dabbas | Assistant Professor | |
| 4. | Dr. P.K.Tiwari | Assistant Professor | |
| 5. | Dr. I.N.Shukla | Assistant Professor | |
| 6. | Dr. Sanjeev Kr. Singh | Assistant Professor | |
| 7. | Dr. Ramesh Singh | Virologist | |
| 8. | Dr. Rajiv | Agronomist | |
| 9. | Sri. U.C. Mishra | Agronomist | |
S. No.>
Technical staff
1.
Dr.V.K.Yadav
Staff
2.
Sri. N.S. Kushwaha
Staff
3.
Sri. S.D. Dutta
Statistician